Posted by: Bob Raines

Tennessee has a storied music legacy: from the birthplace of country music and pioneering rock and roll, to the legendary blues of Memphis. For more than a century, the music industry has been an essential part of Tennessee's culture, creative energy and economy.
Today, nearly 6,800 Tennesseans work in the recording industry. More than 1,000 businesses support the recording industry, providing $1 billion in total wages annually.
When it comes to music, few other states in the country can match Tennessee's resources, talent, and expertise. We have the highest concentration of musicians and singers in the U.S. The same goes for music directors and publishers. We also have the second highest concentration of sound engineer technicians in the country.
This talent base is extraordinary by global standards, even more so when it is combined with the world-class studios in Tennessee.
At the Tennessee Entertainment Commission, we want to ensure Tennessee remains a creative hub for music. That's why we're introducing a new incentives program designed to support the production of original music scores for films, television shows and a whole host of digital media projects in Tennessee. Our partners at the Recording Academy's Nashville and Memphis Chapters provided us with instrumental support along the way.


Here's What TEC's Scoring Incentive Program Offers
TEC's Scoring Incentive Program is tailored for companies producing original scores for films, television, animation, commercials, video games and other multi-media projects in Tennessee. Our new program offers a grant up to 25 percent on qualified Tennessee expenditures for this scoring work. Types of spending covered by the program include studio rental fees and associated fixed costs, artist and musician salaries, mixing and mastering, as well as instrument and equipment needs.

Below is a snapshot of the new scoring incentives.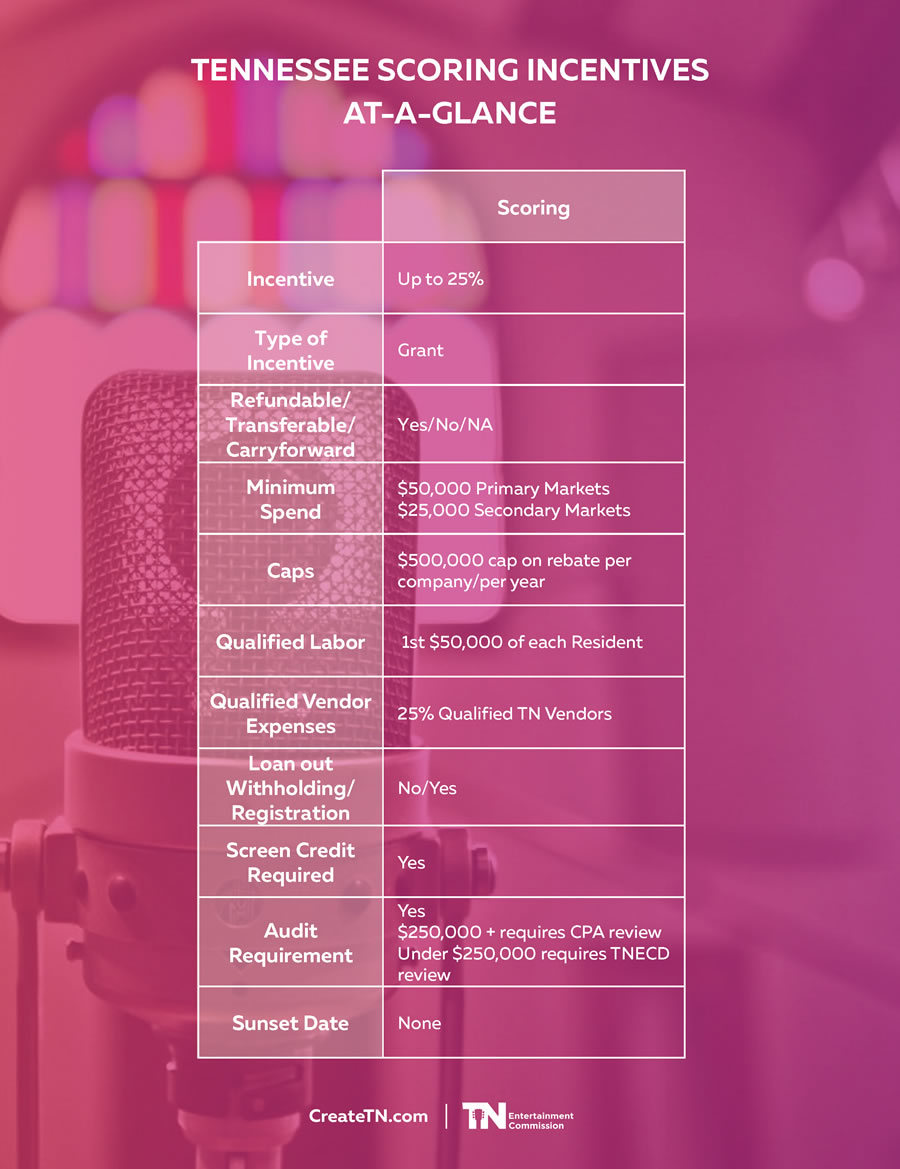 Our goal: Make Tennessee Leading State Music Scoring
We want Tennessee to be top of mind for the media companies creating original musical scores that accompany visual production. When these companies are looking for a place to record and produce these scores, we want Tennessee to be their first consideration.
By leveraging our robust ecosystem of existing musicians, producers and engineers, this rebate makes Tennessee more competitive for scoring projects. It gives our musicians an advantage against their peers in other established markets. Additionally, we see tremendous potential to help expand the industry and bring more recording industry jobs to Tennessee.


Why Scoring?
Despite Tennessee's historical strength in music, the last decade has presented our music creators with a variety of headwinds, ranging from internet piracy and corporate consolidation to antiquated copyright laws. We hope to counteract those trends and support projects that provide Tennesseans with high quality jobs.
Scoring, however, has been a tailwind. In the past five years, we've seen robust growth in scoring projects in Tennessee. And it has quickly become an important component in our overall music industry. Last year alone, we counted about 50 scoring projects in Tennessee. And there are likely several more projects.
We hold unique advantages – from world-class studios and musicians – that position Tennessee to be a global player in this corner of the recording industry.

Tennessee musicians are among the best in the world. Our artists average 8 minutes of recorded music per hour. By comparison, musicians in larger markets like London and Los Angeles only average 6 minutes of recorded music per hour.


Strengthening Entertainment Ties and Business Opportunities
As Tennessee attracts more scoring projects, it will allow our creative class and content creators to showcase their high quality of work and superb craft to international media companies such as HBO, Disney, ABC, Lionsgate, Warner Bros., Nintendo, Sony Playstation, and others.
By building on these existing relationships, we can strengthen Tennessee's ties with the entertainment industry in other major markets. That presents opportunities for broader growth across other parts of Tennessee's entertainment base.
Attracting High Quality Jobs
TEC's scoring incentives are available for both union and non-union projects that meet the programs requirements. For those projects that are designated as union, there will be an added provision rebating up to 25 percent of the fringe benefit costs of Tennessee resident labor. This includes pension, workers compensation and health benefits.
We want to increase job opportunities for Tennessee musicians. The State does not differentiate nor does it advocate for a specific labor status. We feel it is incumbent on the talent, musicians or services companies to make labor decisions that are their best interests. Our goal is to induce high quality wages and economic growth that benefits Tennessee residents.
It is important to stress that Tennessee has administered a film and television incentive program for the past decade. This program has attracted both union and non-union projects to Tennessee. All told, our film incentive program has supported the creation of thousands of jobs and $380 million in economic activity.
Read the official press release.