When you're ready to bring your music and entertainment business to Tennessee, here's what you need to know.
FAQs
Q: How is music licensed for films?
A: When a song is used in a film, it is not only performed but also reproduced in copies. These are rights that come exclusively with copyright ownership. The film producer must obtain the proper licensing to use a song in an audio/visual production. This involves two separate copyrights: One for the underlying music which is owned by the publisher, and one in the specific recording of the music, which is owned by the record company. A synchronization license covers the right to use the music, and a master recording license covers the use of the music. Because films are made to be reproduced, the filmmaker must obtain both.
Q: Do I need a license to sample a track?
A: Yes. You must obtain a clearance, or copyright license, for every sample that you use in your recordings. You can get a license from the copyright owner directly and negotiate a fee. Also, because both the composition and the sound recording are used in a sample track, you must obtain two clearances: one from the owner of the copyright in the song, and one from the owner of the rights to the sound recording. Sometimes this may not be the same person or company.
Q: How do I obtain a license to use copyrighted music?
A: First, gather as much information as you can about the music you are interested in, such as exact song title, songwriter, music publisher, and performing rights organization. Next, contact the appropriate performing rights organization to get the name, address and phone number of the publisher who controls the copyright. Then you contact the publisher. Tell them you seek to obtain a mechanical license for a song they control. However, if you are using a song for a film you are required to obtain a synchronization license from the publisher.
Q: What's the difference in a copyright, patent, and trademark?
A: A copyright protects intellectual property, such as books and music. A patent protects actual inventions and products. A trademark protects words and symbols associated with a business.
Q: What is required to have a song copyrighted?
A: Two requirements must be met before a song can be protected by copyright:
-The song must be original to the author.
-The song must be fixed into a tangible medium of expression, such as paper, tape, CD, etc. However, a song title is not copyrightable.
Q: How do I register for a copyright?
Q: Which form should I use to copyright my music?
A: It's actually easier than it looks. The abbreviation after the word "form" distinguishes the different types. Form SR applies to "sound recordings," Form PA applies to "performing arts" and so on. The different forms are explained on the United States Copyright Office website.
Q: How long does a copyright last?
A: For songs written since 1978, protection begins on the date of creation and lasts the lifetime of the author plus 70 years - with the exception of "works for hire" which last for 75 years from the date of first publication or for 100 years from the date of creation, whichever is shorter.
Q: How do I research who owns a copyright?
A: The Copyright Reference and Bibliography Section at the Library of Congress Copyright Office can research the copyright status of a song.
Your request and any other correspondence should be addressed to:
Library of Congress Copyright Office, LM-451
101 Independence Avenue, S.E.
Washington, D.C. 20559-6000
Tel: (202) 707-6850
Fax: (202) 707-6859
http://www.copyright.gov
Q: How can I get permission to "cover" a song?
A: To cover a song, you must obtain a mechanical license from the copyright owner. This will clear you to reproduce and distribute copies of the song, which are among the exclusive rights that come with copyright ownership. You may either contact the publisher of the song or provide notice of use to the copyright owner directly and indicate that you will pay the statutory rate for the use of their work.
Q: What does it mean to have a song "published"?
A: A song is considered to be "published" once it has been distributed to the public by sale or some other means. It can also be helpful to register your material with one of the performing rights organizations: ASCAP, BMI, and SESAC.
Q: Should I create my own publishing company or go with an established publisher?
A: Some artists prefer to create their own publishing entity and either administer the rights themselves or hire someone to do it for them. This way you keep your copyrights and your publishing, but you have to do much of the work and make the contacts yourself. You can register your company with a Performance Rights Organization for collecting the performance income.
On the other hand, a good publisher can make you a lot of money. They don't make money unless you make money, so they have a financial stake in your success. They have contacts and experience in negotiating the licensing fees. They can plug your songs for radio airplay and shop your songs to other artists that will generate more performance and mechanical royalties. Just remember- you must sign over your copyrights to the company for administration, and in turn, the publishing company agrees to pay a specified percentage of all revenues collected to the writer.
Q: What is a Composing Contract?
A: An agreement called a composing contract or composing agreement is usually created when a production company hires a composer to write original music. It is a legally binding agreement that covers the terms and conditions under which the composer is being hired to write the music, and the ownership and usage of the music going forward into the future.
Q: What are performing rights royalties?
A: ASCAP, BMI, and SESAC are performing rights organizations in the United States. Their main function is to collect performing rights royalties from those who commercially use the music of their member writers and publishers. They distribute royalties to their members after administration costs are deducted.
Q: How do ASCAP, BMI and SESAC work?
A: If a performance is logged, otherwise when it has been identified by ASCAP, BMI, and SESAC as having been broadcast, a royalty will be paid based on the number of times the film or show is broadcast and other factors such as the length and type of music performed. There are very specific formulas that are used to calculate the royalty payments for each performance. In some cases the historical popularity of a composition will increase the current royalties paid for performances of the composition. You should consult the performing rights organizations for specific rules and formulas that determine the calculation of royalties.
Equal royalties are paid to the writer(s) and publisher(s) of the music, and are paid on a quarterly basis. In order to collect publishing royalties, the composer or filmmaker must have a registered publishing company with ASCAP, BMI, and SESAC.
Q: What's the typical royalty situation for film and television projects today?
A: It is customary that composers retain all writers' royalties. Only in special circumstances such as when the composer is an employee of a larger organization (such as a staff composer for a company) will the composer give up writers' royalties. The subject of whether ghostwriters, sub-composers, and others employed by some composers have a claim to writers' royalties is a frequently discussed topic, as is the legal and artistic role of these uncredited personnel.
In theory, anyone who contributes original creative material to a piece of music may have a legal claim of authorship or co-authorship to the material. The simplest way to avoid any disputes in this area is to determine who will receive credit when the contract is being drawn up. Today, it is a common and accepted business practice that the filmmaker or television production company retain publishing rights to original music created for a film or television production. In this situation, the publisher's performing rights royalties would be paid to a publishing company owned by the film production company. The only requirement here is that the production company must set up a publishing company with ASCAP, BMI, or SESAC depending on the affiliation of the composer(s) and must submit cue sheets to these organizations listing the music contained in the production. Composers that retain the publishing on music they write will usually set up their own publishing company with the performing rights organization with whom they are affiliated.
Q: What is a music cue sheet?
A: A cue sheet is a document that is filed with the performing rights organization and contains a detailed listing of each piece of music used in a film or television production. A music cue sheet MUST be filed in order to receive royalty payments. The cue sheet is usually prepared by the music editor for a production, but can also be prepared by the composer if the composer has information on all music used in the production. The cue sheet contains information for each piece of music including the writer(s), publisher(s), usage of the music (background, theme, etc.), length of the music, and a title for each piece of music.
Third Man Records in Nashville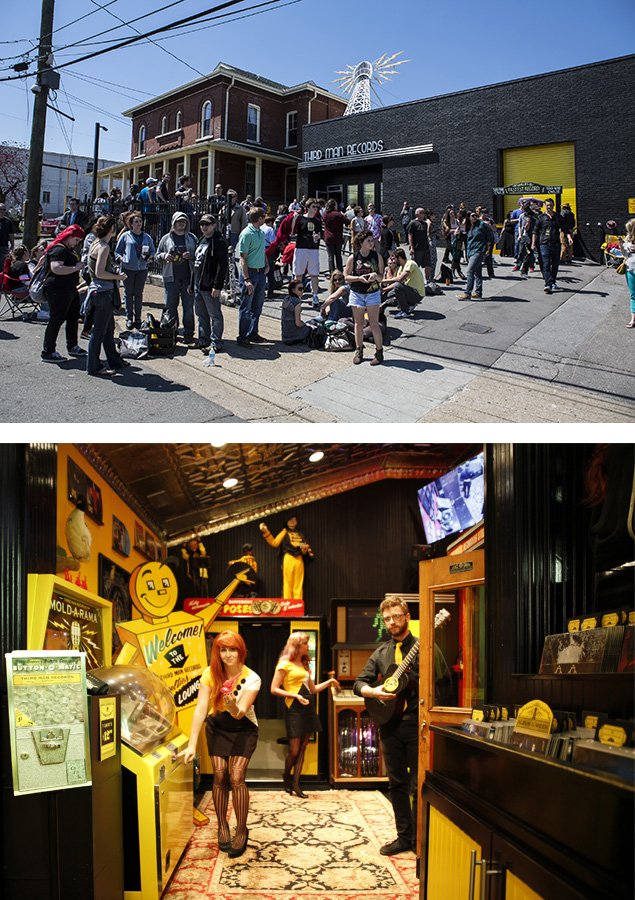 Stay Connected
Join our email list for special announcements from the Tennessee Entertainment Commission or connect with us on social.